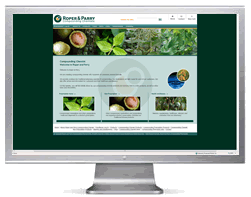 Compounding chemist from Lismore, NSW. very clean, beautiful design that brings an organic / natural theme to what most people see as more of a sterile subject.

Retail shopping is the focus of this web site

The entire site is administered through a custom CMS (content management system) so the owner of the business has full control over the content of the web site.


Website
http://www.roperandparry.com.au/
Internet Marketing
Target Keyword: Compounding Chemist
Commenced: July 2006
Currently: (Jan 2008)
#5 Compoundng chemist (google.com.au, .com)


Development included:
Search engine friendly shopping cart
Content Management System
Internet Marketing
<< Previous
New Zealand Homeopathy
| Back to
Site Build History
| Next >>
GPMG