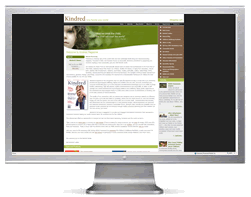 Web based arm of a print media magazine.

Some great functionality here including downloadable e-products, subscription products (both physical and electronic), custom built page library system with a unqiue categorization system.

Random articles and products show on each page to entice the user to read and buy.

Affiliate product module also enabled here so the client can sell affiliate products through the same shopping cart that issued for their own physical and e-products.

Complete content management system enables the site administrators to update the entire site's content, as well as add more pages when ever required.

Internet Marketing
Target Keyword: Natural Parenting
Commenced: March 2007
Currently:Jan 2008
#3,#9 Natural Parenting (google.com.au, .com)
#2,#3 Natural Parenting Magazine (google.com.au, .com)

Development included:
Powerful internet marketing
Page libraries
E products
Affiliate products
Random feature products
Random articles
Content Management System
Links management system
<< Previous
GPMG
| Back to
Site Build History
| Next >>
Sandtraks