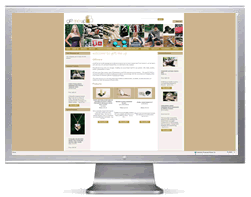 A very stylish website that specialises in selling all sorts of up market giftware.

Great use of random feature products, and the "may we also suggest" feature which allows admin to relate different products to each other, enabling up selling where ever possible.

Stock levels automatically tell the system to remove products from the website when they get to a critical low level.

Custom function to allow for adding gift cards to orders, and also uses multi address function to enable purchases and delivery for giftees.

Nice usage of additional image module to show different aspects of the product being sold.
Beautiful photography demonstrates the importance of using good imagery.

As usual, the entire site is administered through a custom CMS (content management system) so the owner of the business has full control over the content of the web site.

Website
Gift Me Up
Internet Marketing
Target Keyword: Giftware
Commenced: Mid 2007
Currently: (Jan 2008)
#26 Giftware Australia (google.com.au)


Development included:
Search engine friendly shopping cart
Content Management System
Additional Images
Australia Post Plug in
"May we also suggest"
Internet Marketing
Page libraries
Links management system
<< Previous
Blue Pacific Whale Watching
| Back to
Site Build History
| Next >>
Impressive Resumes