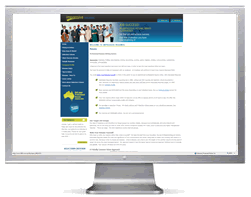 Launched in March 2008, Impressive Resumes is a Melbourne based business specialising in rewriting your resume to help you get that dream job (see a sample resume).

The site has lots of custom programming to allow users to upload their resume and job details with their order (see their list of resumes on offer and resume FAQ's).

Being marketed currently for a very genric word "resume", and is presently sitting at about #22 on google.

As usual, the website is administered through a custom CMS (content management system) .

Internet Marketing
Target Keyword: Resume
Commenced: April 2008
Currently: (Sept 2008)
#25 Resume (google.com.au, .com)

and many more...


Development included:
Search engine friendly shopping cart
Custom Document Uploader
CMS
Internet Marketing
Links Management System
<< Previous
Gift Me Up
| Back to
Site Build History
| Next >>
Maddog