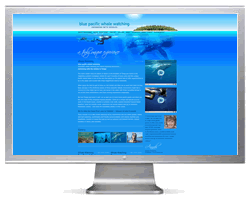 A stunning new site showcasing the beautful waters of Tonga and whale swim tours.

This is one of the most beautiful site designs we have seen - if this doesn't inspire you to go swimming with the humpback whales in Tonga, then nothing will.

Lightbox style galleries on every page

Site has 2 custom database driven forms, and has a full content management system - our own tweaked version of Joomla.. Site ownher has almost absolute control over the content. Again, a stunning piece of design.


Website
Update: client let the domain renewal slip and domain has now fallen into a third party's hands. Shame, it really was a beautiful site!
Internet Marketing
Target Keyword: Whale Watching
Commenced: May 2009
Currently: n/a. Additonal phrase "swimming with whales"

Development included:
Search engine friendly
Custom Image Galleries

Content Management System
Lightbox Integration
Internet Marketing
Custom database Driven Forms

Links Management System
<< Previous
Bellydance for Birth
| Back to
Site Build History
| Next >>
Gift Me Up