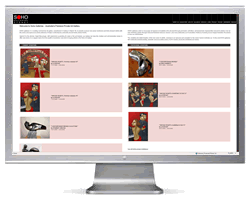 A dedicated art gallery site, this site is a power peformer on Google.

Ranked in the top 10 for "Art Australia" (an extremely competitive search term because it is so generic), Soho Galleries has specially designed art related pages and a custom admin system to allow the owners of the gallery to feature both artists and exhibitions (current and forthcoming).

The entire site is administered through a custom CMS (content management system) so the owner of the business has full control over the content of the web site.

Website
Soho galleries
Internet Marketing
Target Keyword: Art Gallery Australia
Commenced: Early 2005
Currently: (Jan 2008)
#9 Art Australia (google.com.au)
#10 Art Gallery (google.com.au)
#4 Art Gallery Australia (google.com.au)
#3 Sydney Art Gallery (google.com.au)
#7 Sydney Art (google.com.au)


Development included:
Specialised exhibition and feature artist functions
Content Management System
Powerful Internet Marketing
<< Previous
Protecsun
| Back to
Site Build History
| Next >>
Breakaway Art