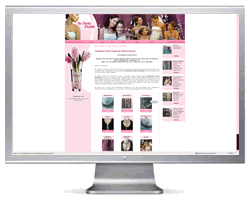 One of our older sites, So Pretty Pearls is a site dedicated to the retail sale of fresh water pearl jewellery.

Internet marketing is the big thing with this website, as it competes extremely well in a very competitive market place - even going so far as to rank well for the word "jewellery" itself- this is no easy task.

The entire site is administered through a custom CMS (content management system) so the owner of the business has full control over the content of her web site.

Search engine friendly shopping cart make this site an internet marketing powerhouse.
Website
http://www.soprettypearls.com.au/
Internet Marketing
Target Keyword: Freshwater Pearl Jewellery
Commenced: Early 2006
Currently: (Jan 2008)
#1,#8 Freshwater pearl jewelry (google.com.au , .com)
#1 Freshwater pearl jewellery (google.com.au /.com)
#1,#2 Pearl jewellery (google.com.au /.com)
#1 Pearl jewellery (google.com.au)
#13 Jewellery (google.com.au)


Development included:
Search engine friendly shopping cart
Content Management System
Australia Post plug shipping calculator
Image galleries
Libraries of pages
<< Previous
Natures Child
| Back to
Site Build History
| Next >>
Sundive