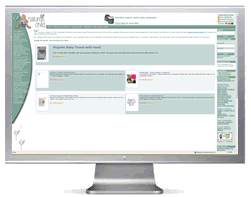 Nature's Child is the industry leader in the organic baby world. This site is an internet marketing powerhouse.

Many features in the shopping cart help to make this online business extremely successful.

Modules such as featured products, reward points, wholesale shopping, may we also suggest, you may also consider, customised newsletter and many more.

The entire site is administered through a custom CMS (content management system) so the owner of the business has full control over the content of the web site.
This site generates a huge amount of traffic.


Internet Marketing
Target Keyword: Nappies
Commenced: 2007
Currently: (January 2008)
#6 Baby Shop (google.com.au)
#1 Nappies (google.com.au)
#1 Organic Baby (google.com.au)
#6 Natural Parenting (google.com.au)
..many mn ay more...


Development included:
Content Management System
Search Engine Friendly Shopping Cart
Reward Points
Page Libraries
Internet Marketing
Links Management System
'May We Also Consider' module
Wholesale Shopping
Feature products
Product Upsell
<< Previous
Mesha Sendyk
| Back to
Site Build History
| Next >>
So Pretty Pearls