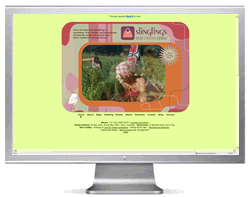 We remodelled the existing flash website , added database connectivity and a search engine friendly shopping cart.

An extreme customisation was required for this site, as limited amounts of fabric is used to create the products shown for sale in this web site.

A solution had to be found to cater for instances where not enough fabric was left in stock to create the product. We found the solution, and this site rocks! Very cool indeed.

Even through all this customisation, the client still has complete control over the cart, products and the site's content in general.

The site has been internet marketed and ranks well across all it's terms.

Our in house built link manager played a large role in achieving this.
Website
www.slingfings.com.au
Internet Marketing
Target Keyword: Eco Products
Commenced: 2005
Currently:Jan 2008
#8,#9 Eco products (google.com.au, .com)
#1,#9 Vintage Fabrics (google.com.au, .com)
#2 Tote Bags (google.com.au)


Development included:
Powerful internet marketing
Flash / database connectivity
Heavily customised shopping cart
Content Management System
Links management system
<< Previous
Screaming Seeds
| Back to
Site Build History
| Next >>
Australian Security Academy