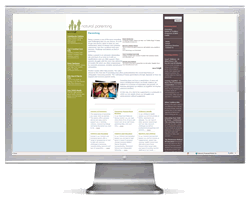 Parenting web portal that comprises 6 different stand alone sites including business directory, forum, and 4 topic centered article sites.

Lots of great technology in this portal including state of the ar business directory, and links management.

Individually themed, these sites are built to rank well for their respective topics. The sites are still rolling out, so watch this space to see their marketing placement success as it unfolds.
The sites in this portal include information on:
Parenting
Family
Pregnancy and Birth
Babies
Parenting Forum
Parenting Business Directory


Total control over the content displayed on the site is given to the site owner through a custom CMS (content management system).
Website
http://www.naturalparenting.com.au/
Internet Marketing
Target Keyword: Parenting
Commenced: November 2007
Currently: (Jan 2008)
#5,#28 Parenting (google.com.au, .com)
#1 Natural Parenting
(google.com.au, .com)

Development included:
Complete rebuild of existing
Re-skinning of forum
State of the art business directory
Multi site portal programming
Content Management System
Internet Marketing
Links management system
Lots lots more
<< Previous
MiPhotogaphy
| Back to
Site Build History
| Next >>
New Zealand Homeopathy