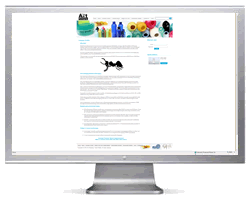 A sleek minimalist site for large plastic bottle manufacturer.

Nice usage of colour to portray the large range of products this company manufactures.

The search engine friendly shopping cart was tweaked to allow the the client to actively communicate with customers before payments are made- as customer contact is important to this web site owner.

Prices are not displayed on the web site, and wholesale shopping is achieved after secure login procedure.
Multi tier pricing is also built into the product admin system.

Launched in mid 2007, this cool features an easy to use product catalog that makes it easy for prospective customers to see decide on what they need for their own business.

As usual, the entire site is administered through a custom CMS (content management system) so the owner of the business has full control over the content of the web site.

Website
http://www.antpackaging.com.au/
Internet Marketing
Target Keyword: Plastic Bottles
Commenced: Mid 2007
Currently: (Jan 2008)
#3 Plastic Bottles (google.com.au)
#1 Homeopathy Bottles (google.com.au)


Development included:
Search engine friendly shopping cart
Content Management System
Internet Marketing
Page libraries
Links management system
<< Previous
2481 Surf Clothing
| Back to
Site Build History
| Next >>
Ballina Beach Resort