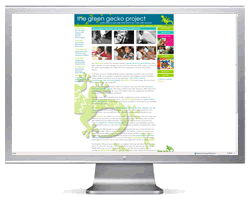 We really enjoyed working on this one.

This was more a labour of love than anything else, as we strongly believe in this project.

Forget the build, go to to the site and donate some money / sponsor a child - Tania and the crew do an amazing job with the street kids of Siem Reap.

If you want to be inspired, sign up for the newsletter and read the regular installments and be amazed at how these guys and girls manifest the things they need. Wonder at how they go from strength to strength making huge impacts in the lives and communities of this beautiful part of Cambodia.

(But oh yes, total control over the content displayed on the site is given to the site administrator through a custom CMS (content management system) and you can donate through a search engine friendly cart too!).
Website
http://www.greengeckoproject.org/
Internet Marketing
Target Keyword: none
Commenced:
Currently:


Development included:
<< Previous
Spaghetti Circus
| Back to
Site Build History
| Next >>
Wind and Water