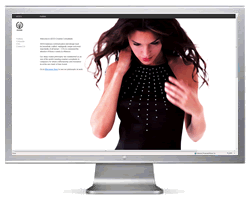 Entirely customised site for very high end graphic design company.

Extremely specific design and programming requirement were had by the client, and the result is one that works very well.

The portfolio includes work for companies such as Mercedes, Volvo, Smart Car, Microsoft, Miss Selfridge, Porsche Design, Franck Muller, Shiseido and many more.

The client has complete control over the look and feel of the web site, and has a powerful admin facility to control the content of their portfolio.
Internet Marketing
Target Keyword: none
Commenced:
Currently:


Development included:
Extreme customisation to portfolio function
Ability to change page background of each page through CMS
Content Management System
<< Previous
Maddog
| Back to
Site Build History
| Next >>
Spaghetti Circus