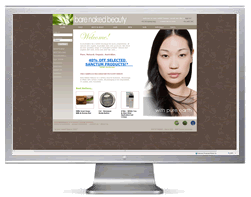 Bare Natural BeautyThis site has lot of really cool features that combine to make this a very search engine friendly shopping cart site.

"Wish list" functionality adds a useful dimension to surfing this site too - where users can add items to their own personal wish list.

"Best sellers" is great module that makes it easy to show off the best performers, by automatically grouping them based on actual sales.

Multi tiered pricing is also built in, and goes as far as automatically upgrading a customer to a preferred user once their sales total a certain amount. Once they this happens, they are eligible to buy at a discount rate. Nothing for admin to do, as it is all fully automated.

Product reviews help make this site a useful one as well as great for shopping.

Up selling is helped with the use of the "also consider" module where like products are grouped together and suggested for additional purchase.

Of course, as with just about all our sites, total control over the content displayed on the site is given to the site owner through a custom CMS (content management system).
Internet Marketing
Target Keyword: Natural Skin Care
Commenced: May 2009
Currently: #2


Development included:
Content Management System
Search engine friendly shopping cart
Multi tier pricing
Wish list
VIP membership and discount rates
Best seller module
Also consider module
Random feature products
<< Previous
Ballina Beach Resort
| Back to
Site Build History
| Next >>
Bellydance for Birth